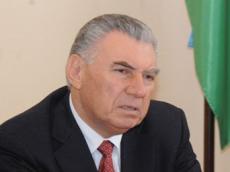 The OSCE Minsk Group would be better to teach trust Armenia, rather than Azerbaijan, Deputy Prime Minister, Chairman of the State Committee for Refugees and IDPs Ali Hasanov said.
He made the remarks at the commemoration ceremony in connection with the 21st anniversary of occupation of Azerbaijan's Aghdam region by Armenia.
Hasanov underscored that throughout the history, the Azerbaijani people have been in trusting relations with its neighbors.
"The OSCE Minsk Group has almost lost its significance and the Azerbaijani people don't trust it any more", the deputy prime minister stressed.
Hasanov expressed regret over holding an event in connection with the next anniversary of occupation of the Aghdam region, but not its liberation, adding that Aghdam and all occupied territories of Azerbaijan will be liberated from the Armenian occupation sooner or later.
Today, 21 years pass since the occupation of Azerbaijan's Aghdam region by Armenia.
Armenian invaders occupied the major part of the Aghdam region on July 23, 1993.
The conflict between the two South Caucasus countries began in 1988 when Armenia made territorial claims against Azerbaijan. As a result of the ensuing war, in 1992 Armenian armed forces occupied 20 percent of Azerbaijan, including the Nagorno-Karabakh region and seven surrounding districts.
The two countries signed a ceasefire agreement in 1994. The co-chairs of the OSCE Minsk Group, Russia, France and the U.S. are currently holding peace negotiations.
Armenia has not yet implemented the U.N. Security Council's four resolutions on the liberation of the Nagorno-Karabakh and the surrounding regions.

/Trend/