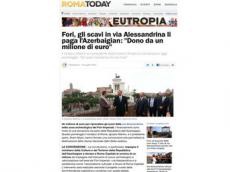 Italian newspapers and information portals continue to cover Azerbaijani President Ilham Aliyev`s official visit to Rome.
The Italian authors analyse the meetings held within the visit, as well as the contribution of the visit to the development of bilateral relations between Azerbaijan and Italy.
The article issued in the "La Repubblica" newspaper says that the cultural cooperation between the two countries entered a new stage by this visit. The article also underlines the agreement signed with President Ilham Aliyev`s participation by Azerbaijani minister of culture and tourism Abulfas Garayev on financial allocation to archaeological excavation at the "Mercati di Traiano" museum`s area would contribute to the cultural development of Rome.
"Rai news" and "Roma today" information portals also covered Azerbaijani President Ilham Aliyev`s meeting with Mayor of Rome Ignazio Marino.
The articles are available at
http://roma.repubblica.it/dettaglio-news/-/30102
http://www.rainews.it/dl/rainews/articoli/roma-fori-imperiali-Azerbaigian-un-milione-euro-continua-restauro-colosseo-6a9bf92d-1552-4091-96a1-076803e33833.html

http://www.romatoday.it/politica/via-alessandrina-scavi-archeologici-soldi-azerbaigian-.html
http://libreprensa.com/k/ilham-aliyev/1817234
/AzerTAc/