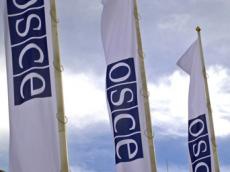 An inter-parliamentary group will be established in the Organization for Security and Cooperation in Europe (OSCE).
The corresponding proposal was reflected in the amendment to the draft resolution of the OSCE Parliamentary Assembly's (PA) Committee on Political Affairs and Security during the 23rd session of the OSCE PA in Baku, Azerbaijan.
The amendment to the draft resolution was adopted as a result of the voting. The discussions on the amendments to it are underway.
The draft resolution will be put to the vote on July 1.
/Trend/