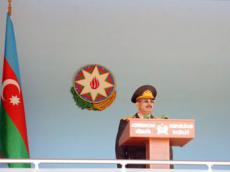 The settlement of the Armenian-Azerbaijani Nagorno-Karabakh conflict depends on the Azerbaijani Armed Forces, Azerbaijani Defense Minister, Colonel-General Zakir Hasanov said at a solemn ceremony of graduates of special educational institutions of the Heydar Aliyev Higher Military School on June 24.
While addressing the graduates, the minister said that they must bring new morale in to the armed forces, and the enemy must know that Azerbaijani officers are stronger.
"Despite the signing of the document on ceasefire, gunshots are heard on the front line every day," he said. "Armenia's reconnaissance and commando forces are trying to attack our positions. However, they get a worthy rebuff and retreat, suffering huge losses."
The minister reiterated the president's words that a second Armenian state can not be created on the territory of Azerbaijan.
Hasanov said that the enemy must take into account the reality, the balance of power in the region.
"We must liberate the territory occupied by the enemy and will certainly do this," he said.
Today it is necessary to recognize the fact as the historical reality that a new stage in the process of building the army and military educational institutions started after national leader Heydar Aliyev returned to power.
Heydar Aliyev is the creator of the modern military education system. Thus, the Higher Military School was named after the Azerbaijani national leader.
"Currently, much and important work is being conducted to improve the social welfare of servicemen," Hasanov added. "In this regard, the minister expressed his gratitude to Azerbaijani President Ilham Aliyev.
Hasanov congratulated the parents of graduates of educational institutions that have received the rank of lieutenant.
The conflict between the two South Caucasus countries began in 1988 when Armenia made territorial claims against Azerbaijan. As a result of the ensuing war, in 1992 Armenian armed forces occupied 20 percent of Azerbaijan, including the Nagorno-Karabakh region and seven surrounding districts.
The two countries signed a ceasefire agreement in 1994. The co-chairs of the OSCE Minsk Group, Russia, France and the U.S. are currently holding peace negotiations.
Armenia has not yet implemented the U.N. Security Council's four resolutions on the liberation of the Nagorno-Karabakh and the surrounding regions.
/Trend/