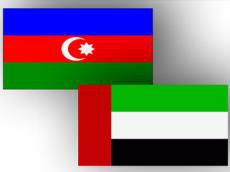 The political consultations between the foreign ministries of Azerbaijan and the United Arab Emirates (UAE) will be held in September, the Azerbaijani embassy in the UAE told Trend on June 17.
This was agreed during the meeting of the Azerbaijani ambassador to UAE, Elkhan Gahraman and the UAE newly-appointed Deputy Minister for Political Affairs, Ahmed Abdul Rahman Al Jarman.
Emphasizing the progressive development of the bilateral relations, especially in the economic sphere, the ambassador said that the two countries have the potential to develop their cooperation in other spheres as well.
Elkhan Gahraman praised the UAE position on the Armenian-Azerbaijani Nagorno-Karabakh conflict and briefed the deputy minister about this issue.
Touching upon the people's right to self-determination, the principle on which Armenia relies, the ambassador stressed that this nation has already created a state in Azerbaijan's historical territories and the creation of the second Armenian state in the Azerbaijani territory is unacceptable.
Al Jarman, for his part, promised to make every effort as a deputy minister to develop the bilateral relations and expressed satisfaction with the level of the trade and economic cooperation.
The two sides also exchanged views on Azerbaijan's balanced foreign policy, as well as the TAP and TANAP projects and their significance against the background of the developments in Ukraine.

/Trend/