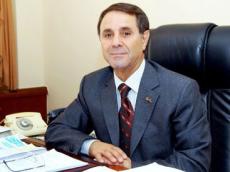 Azerbaijani serviceman Ramil Safarov's safety is fully being ensured, Azerbaijani Presidential Administration's Deputy Head and Director of Administration's Foreign Relations Department, Novruz Mammadov told media on April 29.
Mammadov made the remarks after Armenian media disseminated a report regarding Ramil Safarov.
"The Armenian sources disseminate different information in the press. There is no need to react to all this," he said. "Ramil Safarov is an Azerbaijani citizen. His safety is fully ensured, he's not in danger."
In his article on the so-called "Armenian genocide", Armenian writer Haykazn Ghazarean wrote that Armenian President Serzh Sargsyan ordered the head of the National Security Service Gorik Hakobyan to assassinate Ramil Safarov.
Safarov was born in Jabrail region of Azerbaijan on August 25, 1977. Safarov, who participated in NATO exercises in Hungary in 2004, was accused of killing Armenian officer Gurgen Margaryan, who insulted the Azerbaijani flag. Safarov was sentenced to life imprisonment without parole for 30 years upon the verdict of the Budapest court.
The Azerbaijani officer, convicted in Hungary, was extracted to Azerbaijan on August 30, 2012. He was pardoned upon the president's order.

/Trend/