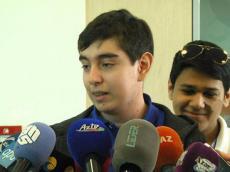 "There is a great difference between school and university. I'm studying here for a long time, the lessons are interesting. I knew English when I passed exam and entered the university. I want to improve my knowledge here. I know English at the higher level. There will be more interesting lessons in the future", said Azerbaijani President Ilham Aliyev's son Heydar Aliyev while speaking about his lessons at the ADA University.
He said that the lessons here are not differed from abroad: "I study here like abroad. There's practically no difference".
He noted that all feel themselves well here: "All are present here, I also stay here when I'm free. I walk with my friends, eat, thereafter go home. I rest and prepare my lessons".
Answering  the questions about his marks, H. Aliyev said he is satisfied with them: "However, I will receive higher marks in the future".
According to him, President Ilham Aliyev is interested in his lessons every day: "My father asks me about my lessons, relations with my friends. He is always thinking about me and this has good effect on me".