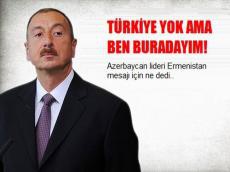 The fact Azerbaijani President Ilham Aliyev gave a strong answer to Armenian President Serzh Sargsyan at the summit of the EU Eastern Partnership program in Prague has hit the headlines in the Turkish press.
The Turkish media described President Ilham Aliyev`s resolute position as a sign of fraternity between the two countries.
Sabah newspaper quoted President Ilham Aliyev as saying: "Unfortunately, the Armenian President has taken advantage of the opportunity to launch another attack on Turkey. It is easy to do so because there are no Turkish representatives around this table. ut I am here and I can tell you why the Turkish-Armenian border remains closed."
Haber Turk newspaper says that President Ilham Aliyev responded harshly to Armenian President Serzh Sargsyan`s accusations of Armenia. The newspaper provided President Ilham Aliyev`s statement: "As far as Turkish-Armenian relations are concerned, Turkish Prime Minister Recep Tayyip Erdogan made a statement several years ago, suggesting that the Armenian leadership open all the archives and historians review the historical aspects of the relations between the two nations again. However, this suggestion was not properly received."
The newspapers that praised President Ilham Aliyev`s response included Milliyet, Radikal, Aksam, Posta, Cumhuriyyet, Hurriyet Daily News, Yeni Safak, Sozcu, Star and others.
Turkey`s TGRT, TRT Türk, TRT Avaz, TRT Haber TV channels as well as Dogan and Ihlas agencies, and Haberler, Sondakika, Haber3, Haberciniz, f5haber and other news portals provided information about President Ilham Aliyev`s reply. They said President Ilham Aliyev lashed out at his Armenian counterpart in response to the Armenian President`s accusations of Turkey of not recognizing the so called "genocide", refusal to open borders with Armenia and opposition to Turkey`s EU membership.
"Our population has been exposed to ethnic cleansing. The occupation continues to this day despite four resolutions of the UN Security Council, resolutions of the European Parliament and the Parliamentary Assembly of the Council of Europe. Armenia flouts these resolutions and continues the occupation of a territory that does not belong to it both from a historical perspective and from the standpoint of international law," President Ilham Aliyev was quoted as saying.
The Turkish media has cited
AzerTAc
in all their reports.