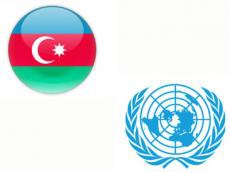 Azerbaijani Minister of Economy and Industry Shahin Mustafayev has met UN Resident Coordinator in Azerbaijan Antonius Broek to explore prospects for cooperation between the country and the organization.
They particularly discussed cooperation under the United Nations Development Program (UNDP), UN Industrial Development Organization (UNIDO) and UN Development Action Framework (UNDAF).
Hailing the country`s ties with the United Nations, Mustafayev said "this cooperation covers a variety of fields". He stressed the importance of establishing a high-level committee for developing UNDAF 2016-2020, and setting up working groups and holding joint workshops.
Mustafayev hailed the fact that UNDAF priorities coincided with the goals of "Azerbaijan 2020: vision for the future" development concept.
The Minister highlighted what Azerbaijan had achieved in prevention of poverty and protection of environment within UN Millennium Development Goals.
He underlined the opportunities of cooperation between Azerbaijan and UNIDO in 2014.
Broek spoke of the programs implemented by Azerbaijan and UN, and the country`s cooperation with UNDAF.

/AzerTAc/