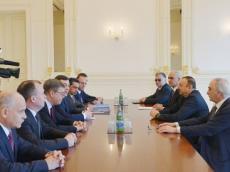 Azerbaijani President Ilham Aliyev has today received a delegation led by Governor of Sverdlovsk Region of the Russian Federation Eugene Kuyvashev.
Hailing relations between Sverdlovsk and Azerbaijan as long-term and friendly, Eugene Kuyvashev said: "The foundations of these ties were laid by national leader of the Azerbaijani people, great personality Heydar Aliyev."
He recalled the visit of vice-president of the Heydar Aliyev Foundation Leyla Aliyeva to Sverdlovsk, and celebrations of the 90th anniversary of national leader Heydar Aliyev.
Eugene Kuyvashev hailed the opening of Azerbaijani language and culture center at Ural Federal University as "a good sign of our cooperation". He praised Azerbaijan`s economic development, and pointed to successful cooperation with Azerbaijani companies. Eugene Kuyvashev said trade between Azerbaijan and Sverdlovsk was rapidly expanding.
President Ilham Aliyev said trade between Azerbaijan and Russia, including its republics, was developing on a rapid pace.
The Head of State said the two countries were actively cooperating on all issues. The President praised the fact that people in Sverdlovsk Region had great respect to national leader Heydar Aliyev.
The Head of State said Azerbaijanis living in Russia and Russians living in Azerbaijan were contributing to development of the two countries.
President Ilham Aliyev said the visit by the Governor of Sverdlovsk Region to Azerbaijan created good opportunities for discussing development of the bilateral cooperation.
***
President of Azerbaijan Ilham Aliyev today received former Prime Minister of France Dominique de Villepin.
The former Premier congratulated President Ilham Aliyev on Azerbaijan`s high economic development rate.
Touching upon economic growth in Azerbaijan, Dominique de Villepin said they wished Europe would achieve such important results too.
He hailed the role of Azerbaijan in the region, saying the country plays the role of a bridge between the East and the West and considers secular values as a priority for society.
The former French PM said his country was interested in developing partnership ties with Azerbaijan.
President Ilham Aliyev noted along with development of the economy, Azerbaijan also attached great importance to its diversification.
The Head of State said France was one of the important partners for Azerbaijan. The Azerbaijani leader noted the two countries had strong political relations.
Touching upon development of the economic ties, President Ilham Aliyev said both countries were interested in boosting the bilateral cooperation on this front.
***
President of Azerbaijan Ilham Aliyev has received former Chancellor of the Federal Republic of Germany Gerhard Schroeder.
They discussed how to develop the Azerbaijan-Germany relations.
The Head of State and Gerhard Schroeder noted the role of the German-Azerbaijan Foreign Chamber of Commerce in expanding cooperation between the two countries in a variety of fields.
President Ilham Aliyev receives Sverdlovsk Governor





Azerbaijani President receives former French PM





President Ilham Aliyev receives former German Chancellor
/AzerTAc/