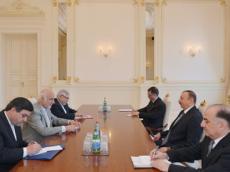 Azerbaijani President Ilham Aliyev has received a delegation led by Iranian Deputy FM, the country's special envoy for Caspian Sea affairs Ebrahim Rahimpour.
Ebrahim Rahimpour conveyed Nowruz holiday greetings of Iranian President Hassan Rouhani to the Head of State.
The Deputy FM said he was happy to visit Azerbaijan and meet President Ilham Aliyev on the day which marks the establishment of the diplomatic ties between the two countries.
The Azerbaijani leader recalled his meeting with President Hassan Rouhani in Davos, saying it gave an impetus to development of the Azerbaijan-Iran ties.
They also discussed how to expand bilateral and multilateral relations between the two countries in a variety of fields.
President Ilham Aliyev asked Ebrahim Rahimpour to deliver his Nowruz holiday greetings to the Iranian President.
***
President of Azerbaijan Ilham Aliyev has received credentials of newly appointed Ambassador of the Czech Republic Vitezslav Pivonka.
The Ambassador passed along a ceremonial guard of honor.
President Ilham Aliyev had a conversation with the diplomat.
Vitezslav Pivonka conveyed greetings of President of the Czech Republic Milos Zeman to the Head of State.
He recalled a meeting between the two countries` presidents in Sochi.
The diplomat noted he would spare no efforts to contribute to developing relations between Azerbaijan and the Czech Republic in a variety of fields, including economy, energy and education.
The President said there were good opportunities for expanding the Azerbaijan-Czechia ties.
Recalling a meeting with President Milos Zeman, the Head of State stressed the importance of high-level meetings in terms of enhancing the bilateral relationship.
President Ilham Aliyev asked Vitezslav Pivonka to pass on his greetings to the Czech President.
Azerbaijani President receives Iranian Deputy FM




President Ilham Aliyev receives credentials of incoming Czech Ambassador
/AzerTAc/