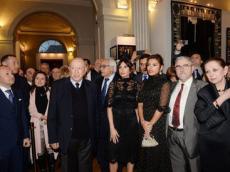 A personal exhibition titled "At crossroads of centuries " by renowned Azerbaijani artist, USSR People`s Artist Tahir Salahov has opened in Paris.
First Lady of Azerbaijan, President of the Heydar Aliyev Foundation Mehriban Aliyeva attended the opening of the exhibition at the French Academy of Fine Arts.
Mehriban Aliyeva first viewed France`s Academy of Fine Arts. Permanent Secretary of the Academy Arnaud d'Hauterives said the Institut de France founded in 1662 manages 5 academies, which implement projects and conduct studies on the France`s history, culture and art.
The exhibition was co-organized by the French Academy of Fine Arts, Azerbaijan's Ministry of Culture and Tourism as well as the Azerbaijani embassy in France.
Arnaud d'Hauterives said that there is a great interest in Salahov`s work in France, adding the Academy is honored to present his masterpieces to the visitors.
Minister of Culture and Tourism Abulfas Garayev described the opening of the exhibition as an historical even for the Azerbaijani culture.
"It is the first exhibition of an Azerbaijani artist to open at the French Academy of Fine Arts," said the Minister. He underlined that Salahov`s creativity belongs to the mankind.
Salahov thanked the organizers of the event, in particular, Heydar Aliyev Foundation and its President Mehriban Aliyeva for supporting this initiative. He said he is happy to present his
works at the French Academy of Fine Arts.
The exhibition attracted France`s renowned artists, foreign diplomats and French government officials.
Mehriban Aliyeva then attended an official ceremony at the UNESCO headquarters marking re-election of Director General Irina Bokova.
/AzerTAc/