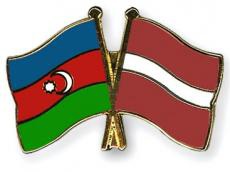 Speaker of the Milli Majlis of Azerbaijan Ogtay Asadov has met head of Latvian Saeima`s group for cooperation with the parliament of Azerbaijan Janis Reirs.
Asadov noted that Azerbaijan-Latvia relations are developing day by day. The Speaker underlined the role of reciprocal visits in taking bilateral relations forward. He noted that there is a legal framework of Azerbaijan-Latvia relations. "The two countries have so far signed about 30 documents with 5 ones pending to get signed," he added.
The Milli Majlis Speaker highlighted the importance of cultivating trade relations between Azerbaijan and Latvia.
Asadov noted Azerbaijan is a key country for ensuring energy security of the region and Europe. "Azerbaijan has achieved important successes in building an independent state. According to him, the country has grown into a regional leader for the level of its democratic development."
Asadov updated the Latvian delegation on the Nagorno-Karabakh conflict, in particular, the Khojaly genocide. He said Armenia continues to disregard international law and refuses to leave the occupied lands of Azerbaijan. He expressed regret that progress had not been achieved despite the efforts put into solving the dispute, adding Azerbaijan favors peaceful resolution of the conflict.
He let Reirs know that the Khojaly genocide is the bloodiest chapter in the history of the Nagorno-Karabakh conflict. "This massacre left hundreds of Azerbaijani civilians dead. A number of countries around the world recognized this crime as genocide."
Reirs said he is satisfied with how bilateral relations between the two countries are developing.
He noted that there is room for developing this cooperation even more.
Reirs pointed out that the Khojaly massacre is a crime committed against not only Azerbaijan but also mankind. He underlined the Azerbaijani diaspora in Latvia made much efforts to raise the world community`s awareness about the truths on the Khojaly genocide.

/AzerTAc/