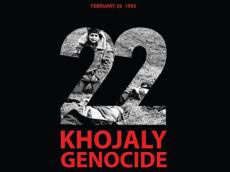 The memory of the Khojaly tragedy victims was revered in Hague, Netherlands.
The rally staged by the Azerbaijani-Turkish Cultural Center was attended by head of the Hague Interreligious Dialogue Platform Bart en Broek, prominent Dutch journalist Jack Kroes, representatives of Azerbaijani and Turkey embassies, writer Orhan Aras, and politicians and local residents.
Then, 83 white balloons with the name of killed babies were released.
Attending the event, President of the Dutch Azerbaijan-Turkey Cultural Association Ilhan Ashkin noted "Bosnia and Herzegovina, Pakistan, Hungary, and other countries recognized the Khojaly massacre as genocide. We are seeking to have this decision made in the Netherlands too. We are trying to initiate discussions on this event in the Dutch Parliament. We plan to hold a signature gathering campaign".
More than 500 people took part in the rally.
***
A commemorative ceremony on the occasion of the 22nd anniversary of the Khojaly tragedy has been held in Istanbul, Turkey.
The event organized by the Istanbul Turkey-Azerbaijan Association was attended by Azerbaijani MPs Agil Abbas, Elman Mammadov, members of the Turkish Grand National Assembly Atilla Kaya, Ali Ozgunduz, professor of Maltepe Univeristy Turkan Saylan, Secretary-General of Anatolia Intellectuals Hearth Ibrahim Oztekin and witnesses of the genocide.
Attending the event Azerbaijan`s Consul General in Istanbul Hasan Zeynalov said that Khojaly tragedy has been recognized as a genocide in many countries.
He also emphasized the role of the "Justice for Khojaly" international campaign in recognizing
the massacre as the genocide. The underlined the role of the Justice for Khojaly campaign in educating the world community about the massacre.
Head of the Istanbul Turkey-Azerbaijan Association Safar Garakoyunlu spoke of the Khojaly tragedy, and noted that Azerbaijani lands will be freed soon, and refugees and internally displaced persons would return to their native lands.
A photo exhibition on the tragedy was also held as part of the event.
***
An event commemorating the 22nd anniversary of the Khojaly genocide has been held in Doha, Qatar.
The event brought together representatives of the diplomatic corps accredited in Qatar, as well as citizens of foreign countries and journalist.
The event started with a one-minute-silence in memory of the Khojaly victims.
Azerbaijan`s Ambassador to Qatar Tofig Abdullayev briefed the event participants on the history of the tragedy, which claimed the lives of 613 people, including 63 children, 106 women and 70 elders.
A documentary on the Khojaly massacre was demonstrated at the event.
Ambassador Abdullayev held a press conference on the anniversary of the genocide.

/AzerTAc/