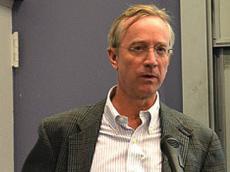 Day.Az
interview with
Dr. David C. Cuthell
, Adjunct Associate Prof. Columbia University

- Foreign chiefs of Azerbaijan, Turkey and Georgia met in Ganja. One more format of regional interaction - Azerbaijan-Turkey-Iran formed earlier. Does Turkey decided to beef its position up in the South Caucasus?
 
Turkey understands that economic and political cooperation leads to better relations as well as greater economic returns. In the recent past, many of the Turkish policy initiatives have fallen short of their goals. Any success in deepening ties will be helpful for Ankara at a time when critics of the Erdogan government can be found in Europe and the United States. The real tough part will come in the negotiations with Iran and Azerbaijan where the Turks are not dealing with the same strengths as they had two years ago. In the long run, Iran is likely to pose a direct challenge to Turkey as a regional leader. This could come as soon as the next three to five years.
- Analysts oppose that formats of interaction to Russian-Armenian union. Could it be said that union with the participation of Turkey can rival with Russia in the region?
Quite possibly. Russia has the bad habit of keeping its clients on a short leash, just look at Ukraine. Unlike Ukraine, Armenia is small enough to almost entirely dominate the economy. Frankly, the picture for Armenia is sadly not good in the near to middle term.
- And how do you think, is Armenian membership in the Customs Union able to affect the regional balance of power?
I doubt this will produce meaningful change in the near terms. Armenia is so far behind so it will be constantly trying to catch up to Azerbaijan which is well beyond its takeoff phase and is continuing to reap the rewards of its diplomacy as well as infrastructural and educational investments.
- Would it be better for Armenia to abandon its aggressive policy in relation with Azerbaijan in favor of regional cooperation, which will primarily benefit to Armenia itself? Could we assume that common sense will ultimately prevail Armenian side?
I think there is a good possibility of an accord being worked out in the not too distant future. It will however probably not include a 100% return of the lands of NK that were seized. This of course has been rumored for some time.

- American co-chair of the OSCE Minsk Group James Warlick headed to Turkey this week in order to know the stance of its authorities in regard with Karabakh problem? What does it mean?
I think that the answer speaks for itself insofar as the US recognizes that Turkey's increased prestige and power in the region argues that they should have their input included if a real settlement is to be reached. The linkages between the Turkish-Armenian border and the NK problems go back decades and partial solutions to the regional disputes can only cause further problems down the road. The Turks certainly view the NK dispute as an issue that falls under their purview.

- Formerly, the United States have always rejected the existence of interrelation between the issue on Turkish-Armenian border and Karabakh problem? Does Warlick's visit to Ankara mean that Washington has reviewed its position and now considers these two problems interrelated, as Baku underlines oftenly?
It is possible that there is a change in DC's view. Again,this problem is decades old and call for some new approaches and flexibilities. From the Armenian side, there must be some desire to break the deadlock, without losing face. They certainly cannot enjoy watching the BTC and other such trade projects passing them by. As I have said before, Armenia is the region's economic basket case, something Armenians inside and outside the country are only too aware of.