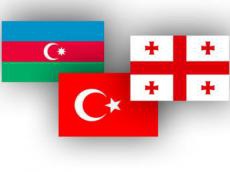 By AzerNews
The Foreign Ministers of Azerbaijan, Georgia and Turkey signed a declaration on February 19 on the results of the ministers' summit in Ganja.
Elmar Mammadyarov, Maia Panjikidze and Ahmet Davutoglu's trilateral meeting was held behind closed doors.
Before the trilateral meeting, bilateral meetings were held in the formats of Azerbaijan-Turkey, Azerbaijan-Georgia and Georgia-Turkey.
It is the third meeting of the foreign ministers of Azerbaijan, Georgia and Turkey.
The last summit of ministers was held in March 2013 in the Georgian city of Batumi.
The basics of the ministerial were laid on June 8, 2012 in the Turkish city of Trabzon, with signing of Trabzon declaration by the heads of foreign ministries of the three countries.
The Declaration reflects the most important directions of mutual cooperation of Azerbaijan, Georgia and Turkey in areas such as the economy, energy, infrastructure, transport, culture and humanitarian sphere.
The ministers of the three countries adopted an action plan of interagency cooperation for 2013-2015 in Batumi. The plan was developed by the relevant departments and includes specific projects and initiatives. The plan covers areas such as the economy, energy, environment, culture, education, sports and youth.