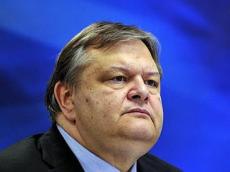 Greece will do everything in its power to further the progress and development of EU-Azerbaijan relations, Greek Foreign Minister and Deputy Prime Minister, Evangelos Venizelos told on Jan. 21.
Greece will preside over the Council of the European Union in the first half of 2014.
The minister said that following the choice of the Trans Adriatic Pipeline (TAP) as the route for carrying Azerbaijani gas to European markets, the partnership between Greece and Azerbaijan can certainly be characterized as strategic.
"The success of the TAP bid was very important to Greece, because, in addition to bringing in a huge foreign investment and creating thousands of new jobs, it was a show of the private sector's confidence in Greece and the future of our economy," Venizelos said.
The minister added that the EU's Eastern Partnership initiative was a priority of the previous Lithuanian presidency and naturally Greece's presidency will be following up on the progress made so far.
Venizelos, touching upon his country's Council of the European Union presidency, said Greece's priorities include the creation of new jobs - particularly for young people, deepening of European and Eurozone economic governance, confronting illegal migration and an integrated European maritime policy.

/Trend/