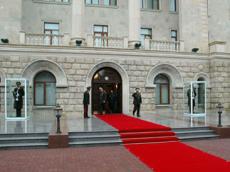 Azerbaijan`s Defense Ministry has refuted the Armenian media allegations that an Azerbaijani raiding party committed an act of sabotage on the line of contact, saying it is another provocation.
"The Armenian media alleges that a raiding party of the Azerbaijani Armed Forces has violated ceasefire on the contact line to commit sabotage in Nagorno-Karabakh, which resulted in Armenia`s suffering serious losses," the Ministry said in a statement.
It noted the Armenian army was suffering loses because of disorder in its military units and serious problems in relations among officers and soldiers, particularly among army conscripts from Armenia and Nagorno-Karabakh Armenians.
"There has been no incident on the contact line of the troops. The Armenian media allegations are disinformation and provocation," the Defense Ministry said.

/AzerTAc/