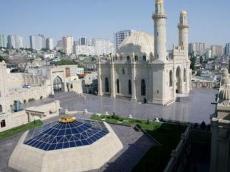 The Caucasian Muslims Board (CMB) has issued a statement on the 24th anniversary of January 20 tragedy.
The statement says that January 20 was the first struggle and the first moral victory of the way leading Azerbaijan to independence, freedom, restoration of national-moral values.
"On that day people did not yield to the punishments of the Soviet army, did not lost their determination of freedom."
The statement mentions that from the very beginning of the bloody events, the Caucasian Muslims Board became the center controlling the situation and the only place of hope for people.
"The board made efforts to inform the world community, influential international organizations about January 20 tragedy, to achieve recognition of the tragedy as an atrocious crime against humanity. In his letter to USSR President Mikhail Gorbachov, Sheikh-ul-Islam Allahshukur Pashazadeh expressed tough and principled position on what was going on."
The Caucasian Muslims Board regrets that this tragedy has not received full legal assessment due to the double approaches in the world, criminals have not been brought to justice and the hangmen of Azerbaijani people still remain unpunished.
"But we are sure that they will not be able to escape trial of Allah and History. Therefore, January 20 has become the day to commemorate our martyrs, instill spirit of heroism and patriotism in our people, especially in our youth."
According to the statement, khutbahs, Koran will be read for martyrs in all mosques and religious ceremonies on January 20. Spirit of heroism will be promoted among the youth in our right struggle for Motherland, Justice, Karabakh. Caucasian Muslims Board offers condolences to the families of all those who sacrificed themselves for the territory integrity, independence of our Motherland and Karabakh.
/AzerTAc/