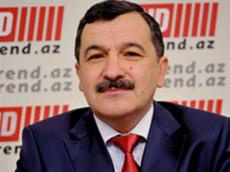 As in previous years, Azerbaijani president stressed at this government meeting the importance of a serious fight against corruption and noted that bribers must be exposed and measures should be taken to avoid potential corruption, MP Aydin Mirzazade told on Jan. 10.
He made the remarks whilst commenting on the speech of Azerbaijani President Ilham Aliyev at a Cabinet of Ministers meeting, dedicated to the socio-economic development in 2013 and the goals ahead for 2014.
The MP said this is the stand taken by the Azerbaijani government, as expressed by its head.
"This policy has long been practiced in Azerbaijan and very serious works are being conducted in this direction. Combating corruption and bribery is usually carried out in two directions. One direction is the identification and punishment of corrupt officials, the other is the creation of a system where corruption is impossible. I believe that the second direction - improving government operations, employment in the civil service by means of testing, admission to civil service the most deserving persons, periodic rotation of staff - directly serve in combating corruption. The system of the ASAN Service, which was recently established in Azerbaijan, can be considered one of the most effective ways to combat corruption. This system has become a brand of Azerbaijan and many foreign countries are interested in it and want to use its experience," the MP stressed.
Mirzazade believes that works on improvement of governance and considerable training of professionals make effective the fight against corruption in Azerbaijan.
/Trend/