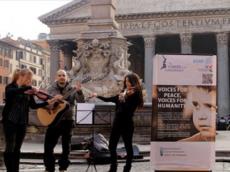 By AzerNews
Azerbaijani youth held a protest rally in Rome to commemorate the 22th anniversary of the occupation of Azerbaijan's Khankendi city.
Called "Voices for Peace, Voices for Karabakh", the rally was organized by Azerbaijani Students and Alumni International Forum (ASAIF) and Azerbaijani-Italian Youth Association, AzerTag news agency reported.
The event aimed to increase the Italian community's awareness of the realities of the Armenia-Azerbaijan Nagorno-Karabakh conflict.
During the rally both Rome citizens and tourists were informed about the Nagorno-Karabakh conflict.
December 28 marks the occupation of Azerbaijan's Khankendi city and Kerkijahan settlement, which has significant strategic importance for the surrounding areas.
The occupation of Khankendi was completed by the capturing of the Kerkijahan settlement on 28 December 1991.
As a result of Armenians' attack with military vehicles and heavy weapons, those who defended Kerkijahan had to retreat. Azerbaijani families who had suffered Armenia's attacks left Khankendi and took refuge in Aghdam, Shusha, Khojaly, and other neighboring regions of the country.
As a result of the occupation of Kerkijahan by the Armenian armed groups, 34 of 1796 habitants of the village, including 3 women and 2 babies, were killed and more than 150 people were wounded.
Armenia occupied over 20 percent of Azerbaijan's internationally recognized territory, including Nagorno-Karabakh and seven adjacent regions, after laying territorial claims against its South Caucasus neighbor that caused a brutal war in the early 1990s. Long-standing efforts by US, Russian and French mediators have been largely fruitless so far.
As a result of Armenia's military aggression, over 20,000 Azerbaijanis were killed, 4,866 are reported missing, almost 100,000 were injured, and 50,000 were disabled.
The UN Security Council has passed four resolutions on Armenian withdrawal from the Azerbaijani territory, but they have not been enforced to this day.