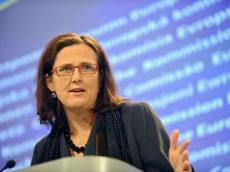 The visa facilitation agreement between Azerbaijan and the European Union is an important step in the cooperation of the EU with the country and will bring a tangible benefit to Azerbaijani citizens, Cecilia Malmstrom, EU Commissioner for Home Affairs said on Nov.29.
Azerbaijan and the European Union signed a visa facilitation agreement within the third Eastern Partnership summit in Vilnius on Nov.29.
The document was signed by Azerbaijani Foreign Minister Elmar Mammadyarov, European Commissioner Stefan Fule and Lithuanian Foreign Minister Linas Linkevi?ius.
Azerbaijani Deputy Foreign Minister Mahmud Mammadguliyev told Trend that after the signing of the agreement, it will be ratified by the Milli Mejlis (parliament) of Azerbaijan and in the European Parliament.
In addition, it is necessary to sign bilateral agreements with the countries that enter the Schengen Area, but are not EU members (Norway, Switzerland, Iceland, Liechtenstein).
According to the deputy minister, the agreement will cover a sufficiently broad list of people. They are first of all citizens who go abroad for education and business.

/Trend/