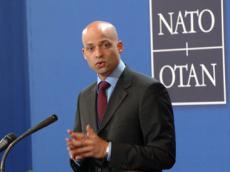 By AzerNews
NATO Secretary General's Special Representative for the Caucasus and Central Asia James Appathurai has said NATO hopes for a speedy settlement of the Armenia-Azerbaijan Nagorno-Karabakh conflict, Armenian media reported.
During his visit to Armenia, Appathurai said NATO does not play a role in the Nagorno-Karabakh issue, however, it supports the efforts of the OSCE Minsk Group on a peaceful settlement of the conflict.
"NATO has partnership ties with both Armenia and Azerbaijan," Appathurai said. "During our meetings, both in Azerbaijan and in Armenia, we always emphasize the importance that we attach to an exclusively peaceful settlement of the conflict. Both here and there we are communicating the message that the Nagorno-Karabakh conflict has no military solution. The Nagorno-Karabakh conflict can be resolved only by means of negotiations and on the basis of mutual concessions.
Appathurai also stressed that a settlement of the conflict would bring both political and economic benefits to all countries in the region.
He said that as is known, a meeting between the presidents of Armenia and Azerbaijan is planned in the near future as part of the Minsk process.
"We hope for the soonest resolution of the conflict with the assistance of the OSCE Minsk Group co-chairs," Appathurai said.
The Nagorno-Karabakh conflict emerged in 1988 when Armenia made territorial claims against Azerbaijan. Since a lengthy war in the early 1990s that displaced over one million Azerbaijanis, Armenian armed forces have occupied over 20 percent of Azerbaijan's internationally recognized territory, including Nagorno-Karabakh and seven adjacent regions. The UN Security Council's four resolutions on Armenian withdrawal have not been enforced to this day.
Peace talks, mediated by Russia, France and the U.S. through the OSCE Minsk Group, are underway on the basis of a peace outline proposed by the Minsk Group co-chairs and dubbed the Madrid Principles. The negotiations have been largely fruitless so far.