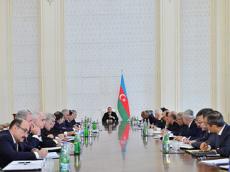 Azerbaijani President Ilham Aliyev has chaired a meeting of the Cabinet of Ministers on results of socio-economic development of the country in nine months of 2013 and outstanding tasks.
The Head of State made opening speech at the meeting.
The President said nine months of the year were a success, adding "all tasks we set ourselves have been implemented".
"Azerbaijan`s economy has been successfully developing this year too, and, I believe, this rapid development will continue in the years to come because the reforms that we have carried out so far and results that we have achieved let us say that Azerbaijan`s successful development will further be ensured."
President Ilham Aliyev said Azerbaijan`s economy grew 5.5% in nine months of the year. "I think that taking into account the continuing crisis in the world, it is quite a high achievement, and it lets us successfully implement our investment programs."
"Our non-oil sector is growing at a rapid pace, which has been preserved since the beginning of the year. Our non-oil sector grew 10.4% in nine months, and, I believe, it is the best indicator on a global scale. The President said "this is the results of the reforms carried out in
Azerbaijan". "We are reducing dependence of our economy on oil and gas, which contributes to solving the issue of economic diversification."
"We will completely remove dependence of the national economy on the oil and gas factor. Development of the non-oil sector is the result of the state policy."
The Head of State said the country`s industrial output grew as well. "Our agricultural production saw a 5% growth, and there is a good potential for further development in the future. Inflation was just 2.3%, and it is an excellent figure. The population`s incomes grew 7.6%."
The President said macro-economic situation was stable in Azerbaijan, adding the country was among the top ten countries on a global scale in terms of this parameter. "The Global Competitiveness Report of the Davos World Economic Forum has recently placed Azerbaijan`s economy 39th on a global scale. This is a historic figure."
President Ilham Aliyev praised the country`s investment climate. "Azerbaijan is a very attractive country in terms of investment both among former Soviet republics and in the region." "A total of 17.7 billion dollars were invested in Azerbaijan`s economy in nine months, with $10.5 billion coming from domestic and 7.2 billion from foreign sources."
The President said the country`s currency reserves increased this year to make 49.4 billion US dollars. "It`s a very big figure for a country with the population of 9.4 million people."
"Azerbaijan is one of the leading countries in the world in terms of per capita currency reserves." "The growing volume of currency reserves both ensures Azerbaijan`s sustainable development and, at the same time, helps us elevate relations with our foreign partners to a higher level."
The Head of State touched upon the country`s state debt, saying it makes only 7% or 8% of the Gross Domestic Product. "In some developed countries state debt makes more than 100% or nearly 100%." "In Azerbaijan, we have just 7% or 8%, which means that we have built strong foundations so that Azerbaijan faces no problems in terms of state debt neither today, nor in 10, nor in 20 years."
The President highlighted the country`s social policy, saying it is based on "powerful economic foundations". "Wages and pensions have increased this year. Wages and pensions have grown several times in the last 10 years." "We remodeled and reconstructed nearly 200 schools this year. All other social facilities are being renewed and modernized."
The President said: "We have achieved all goals with respect to development of our regions. We are completing the second regional development program this year. Nine months of this year alone saw the creation of nearly 90,000 new jobs. In general, more than 1.2 million jobs have been created in the country in the past 10 years, which helped us to have considerably reduced unemployment. "According to latest figures, the level of unemployment in Azerbaijan is below 5%. This also contributes to reducing poverty. We have two months left to the end of the year, but we can already say with confidence that poverty will be under 6% this year."
President Ilham Aliyev referred to the Armenia-Azerbaijan Nagorno-Karabakh conflict: "Unfortunately, the past months have marked no progress in settlement of the Nagorno-Karabakh conflict. But we have become very powerful. Difference between Azerbaijan and Armenia is deepening, increasing." "Recent events have once again showed that Armenia is not capable of living independently. It is in a dependent position. Even top-ranking Armenian officials are forced to admit that Armenia is not capable of ensuring its security itself." The Head of State expressed confidence Azerbaijan would liberate its occupied lands from the Armenian occupation. "What we need is to continue our policy." "We are stronger than Armenia 10-fold in terms of economy." The President said: "It is our hope that peaceful negotiations will yield results and Armenia will analyze the situation to admit the reality that it must withdraw from the lands that have nothing to do with Armenia." "However, we are well aware that in many cases international legal norms are grossly violated across the globe, and that there are double standards. In some cases resolutions of the UN Security Council are executed in just couple of hours, but when it comes to Azerbaijan-related resolutions – they were adopted 20 years ago, but have never been executed, and no one is forcing Armenia to do so. We face double standards certainly. It`s no secret. I`m confident that the people of Azerbaijan are well aware that double standards, biased position against Azerbaijan and unfounded good attitude towards Armenia are the major barrier to finding a solution to the Armenia-Azerbaijan Nagorno-Karabakh conflict. But we will continue our efforts. We have to be stronger. We must further keep Armenia isolated from diplomatic, political, economic, regional initiatives. And we will do so."
The President highlighted Azerbaijan`s achievements in foreign policy. He said the number of Azerbaijan`s friends was growing. "The number of countries that want to cooperate with us is growing, Azerbaijan is known as a very reliable partner in the world." "Visits by senior state and government officials of foreign countries who visited Azerbaijan in the last quarter of the year signal our successful foreign policy. Last quarter marked the visit of Italy`s Prime Minister to Azerbaijan. Italy is one of the leading countries in Europe. We have excellent relations. It was the first visit of the Italian Premier to Azerbaijan. The results of the visit were very successful. Several days later the Russian Prime Minister visited Azerbaijan. This visit, too, was a success. It was of profound importance in terms of development of Russia-Azerbaijan strategic relations. Several days later Azerbaijan hosted the Summit of Turkic-speaking States. The presidents of Turkey, Kazakhstan and Kyrgyzstan visited Azerbaijan."
President Ilham Aliyev highlighted achievements in the country`s energy policy. "Trans Adriatic gas pipeline project has already been launched. I believe Trans Adriatic pipeline TAP will be a historic project allowing Azerbaijan to transport its natural resources to the world and European markets in the decades to come."
Economic Development Minister Shahin Mustafayev, chairman of the Board of Directors of the Central Bank Elman Rustamov and chairman of the State Social Protection Fund Salim Muslumov highlighted what had been done in nine months of the year.
President Ilham Aliyev made closing remarks at the meeting. He stressed the importance of continuing measures to preserve the development dynamics.
The Head of State said the third State Program for development of the regions would be adopted next year.
The President emphasized the necessity of continuing work to strengthen fight against corruption, develop electronic services, expand ASAN service, as well as improve electricity, drinking water and gas supply. President Ilham Aliyev also said measures would be continued to develop agriculture.
/AzerTAg/