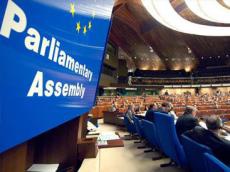 By AzerNews
Armenia's president, using the rostrum of an international organization, once again tries to mislead the international community, interpreting international law in his own way, Azerbaijani Foreign Ministry spokesman Elman Abdullayev told Trend news agency on October 2.
Commenting on Armenian President Serzh Sargsyan's statement made at the Parliamentary Assembly of the Council of Europe (PACE), Abdullayev said that probably, this approach of the Armenian leader stems from his absolute lack of respect for international law and the views of the international community.
Speaking at the fall session of PACE on October 2, Sargsyan unreasonably accused Azerbaijan of posing artificial obstacles to a settlement of the Nagorno-Karabakh conflict, inciting hatred and the threat of war.
"The Armenian president does not understand that manipulation of the negotiation process and any pretexts at delaying resolution of the conflict very negatively affect the security of the region, including Armenia itself," Abdullayev said.
Moreover, at the PACE Sargsyan regarded Nagorno-Karabakh as an example of a democratic society.
Abdullayev said that the understanding of democracy of the Armenian president drastically differs from the concept of democracy all over the world.
"I do not know how Sargsyan understands democracy, but clearly, his perception and understanding of democracy is different from the way it is understood by the international community. I know one thing: building a so-called democracy at the expense of crimes, ethnic cleansing and violations of international law, including international humanitarian law, runs counter to the ideals of humanity. Installing a regime in the occupied territories of Azerbaijan on the blood of the indigenous Azerbaijani population and then calling it democracy is a shameless display of disrespect for universal values, not to mention international law," Abdullayev said.
Azerbaijani Defense Ministry spokesman Eldar Sabiroglu commented that Sargsyan thinks that with his cunning speech at PACE, he can cover up his and his criminal team's actions.
"He is a child killer and a day will come when he will be brought before an international court of law as a criminal," Sabiroglu told the local media.
Armenia occupied over 20 percent of Azerbaijan's internationally recognized territory, including Nagorno-Karabakh and seven adjacent regions, after laying territorial claims against its South Caucasus neighbor that caused a brutal war in the early 1990s. Long-standing efforts by US, Russian and French mediators have been largely fruitless so far.
As a result of the military aggression of Armenia, over 20,000 Azerbaijanis were killed, 4,866 are reported missing and almost 100,000 were injured, and 50,000 were disabled.
The UN Security Council has passed four resolutions on Armenian withdrawal from the Azerbaijani territory, but they have not been enforced to this day.