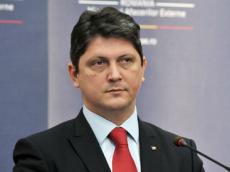 As part of its lobbying activities aimed at promoting and defending Azerbaijan`s just cause, the European Azerbaijan Society (TEAS) has addressed questions to the Ministry of Foreign Affairs of Romania to learn its position on the Armenia-Azerbaijan Nagorno-Karabakh conflict. The Ministry of Foreign Affairs of Romania officially responded to the questions.
The letter of Romanian FM Titus Corlatean reads:
"The South Caucasus is a strategically important region, neighboring the European Union, which is challenged with a security deficit that cannot be ignored. At the same time, it is also a region with a lot of promising prospects. It has a growing economic potential, especially in what concerns the diversification of energy supplies and the development of transport trade routes.
However protracted conflicts in this region, including the one on the territory of Azerbaijan, continue to seriously challenge the overall regional security, going beyond military security. It is considerably about IDPs and refugees as immediate consequences of conflicts which are complicating the demarche of solving the conflicts by addressing their root causes. Time, in the case of these people, has not turned into an ally. It only nurtured maximalist approaches, narrowed the avenues for dialogue and diminished the confidence among parties involved thus affecting their capacity to work out peaceful and durable solutions.
The consequences of these so-called "frozen" conflicts are as comprehensive as the responses they are claiming. Unfortunately, issues critical to everyday life for the population in the affected areas, including Nagorno-Karabakh, became hostages to political approaches. The only thing that froze with them was the political dialogue.
Romania has a principled position that applies to the settlement of all protracted conflicts. We will continue to support efforts towards a peaceful settlement of these regional conflicts based on the principles of territorial integrity and sovereignty.
With regard to the conflict between Armenia and Azerbaijan concerning Nagorno-Karabakh, we support the peaceful and negotiated settlement of the conflict, in full observations of the principles and norms of the international law, respect of sovereignty and territorial integrity, as well as of all the relevant UN SC resolutions and OSCE decisions. The observance of the territorial integrity of Azerbaijan is a key issue that should be taken into account in all political and diplomatic demarches regarding the settlement of the conflict in Nagorno-Karabakh.
Given the peculiarities of the regional process, the Minsk Group has earned itself the status of and indispensible body in helping find a politically negotiated solution in this conflict. This does not rule out, however, a positive input on behalf of the European Union with regard to its Eastern Neighbourhood, particularly as far as confidence building is concerned.
The UN Security Council has repeatedly demanded in its resolutions the withdrawal of foreign troops from Nagorno-Karabakh. This is a position that we fully support as a member state of EU situated in the direct proximity of the EU Eastern border and with a vested interest in seeing our neighbourhood prosperous, secure, stabilized and at peace, and therefore call for a withdrawal of military forces of Armenia from Nagorno-Karabakh and the seven surrounding regions."
/AzerTAg/