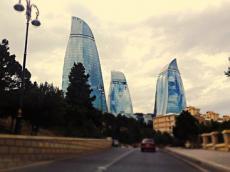 Baku's position on the Syrian issue is not yet concrete, Deputy Head of the Administration of the Azerbaijani President, Head of the Foreign Relations Department, Novruz Mammadov said during his speech on Monday.
He was addressing the second forum 'South Caucasus in a changing world', organized by the Association of Scientists for International Relations of the Center of Strategic Studies under the Azerbaijani President.
"Even the United States does not have a concrete position on Syria yet," he added. "The position is being discussed between the Congress and the President of this country," Mammadov said.
"It would've been better if we have expressed our own opinion after their opinion is made concrete," he stressed. "If we express our position now, it will not correspond to political or diplomatic logic."
/Trend/