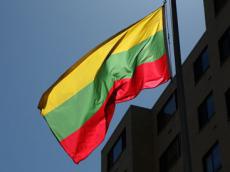 The Lithuanian government adopted a decision on Wednesday to suggest that the president recall the Lithuanian ambassadors to Azerbaijan and Hungary, Arturas Zhurauskas and Renatas Juska. They were criticized by the Prime Minister for posting the records of their phone conversation on the internet, Lithuanian website 15min.lt reported.
The recall will kick in on September 30.
The adoption of the decision on the ambassadors was forwarded to BNS Agency by the Prime Minister's spokeswoman Evelina Butkute-Lazdauskiene
According to the Constitution, the president may recall ambassadors on the basis of a relevant submission of the government.
On July 8, recordings of three phone conversations (4 parts of the records in total) were published on youtube.com. The conversations allegedly involve Lithuanian diplomats Zenonas Kumetaitis, deputy director of the Ministry of Foreign Affairs' Eastern Neighborhood Policy Department, Lithuania's Ambassador to Hungary Renatas Juška, Lithuania's Ambassador to Azerbaijan Art?ras Žurauskas, and Gediminas Kasputis, an official of the Ministry of Foreign Affairs. In one of the records, Žurauskas is said to be talking to a Lithuanian businessman identified as K?stutis.
All records feature English subtitles.
The two recordings mention relations between Armenia and Azerbaijan.
Lithuania is holding EU Council presidency in the second half of the year, and the Eastern Partnership summit scheduled for November is one of the key presidency events. The Eastern Partnership initiative covers bilateral and multilateral EU cooperation with Ukraine, Belarus, Georgia, Azerbaijan, Armenia, and Moldova, promoting closer ties of the Eastern European nations with the EU.
/Trend/