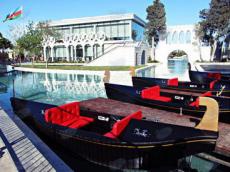 Baku's residents and guest were looking forward to the opening of the "Little Venice" in Baku Boulevard after a major overhaul. So, now all those who want can enjoy this great place.
ANS PRESS reported that the area of the small town built in 1960was expanded up to 10.000 sq.m. . The town has two large and several small islands. The redevelopment of the "Small Venetian town" saw the expansion of the existing channels and the construction of additional bridges and two restaurants, one offering Western cuisine and the other Eastern.
Deputy Head of the Baku Boulevard Administration under the Cabinet of Ministers of Azerbaijan Nazim Majidov said the repair work was delayed due to the thorough reconstruction. He also said that new boats were purchased for the town. Now guides who will accompany the tourists on the boats pass relevant trainings. 
Boats are provided for 4 people: one is designed for guide and  the rest - for passengers. A boat ride for 20 minutes costs 5 AZN.
/Today.Az/