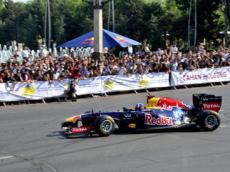 13-time Grand Prix winner David Coulthard has driven a Formula 1 car in an exhibition racing of Red Bull Racing team, the current champion of Formula 1, in Azerbaijan`s capital. The racing took place at an improvised racing road at Neftchilar Avenue in downtown Baku on Sunday.
Baku residents were able to watch Formula 1`s fastest racing car, RB7, that in 2011 helped Sebastian Fettel to become world champion and let Red Bull Racing team have the confident victory at the Constructors Cup.
Coulthard showed Baku residents RB7`s unbelievable speed and phenomenal acceleration from 0 to 100 kilometers per hour in 2.5 seconds. Organized by the Red Bull Company, the exhibition racing was supported by Azerbaijan`s Ministry of Youth and Sport.
Photos by AzerTAc, Trend
18.06.12
00:32