About 10 villages have been flooded in Gardabani district.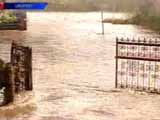 Overflown river Mtkvari has entered houses in the villages of Gachiani, Aghtaklia and Karataklia; yards are also flooded; poultry and cattle are killed.
The villages of Nazarlo, Kesalo, Nagebi, and Vakhtangisi and Lemshveniera are also flooded, Gardabani governor said.
Jandari lake is overflown as well. The population are fighting against bad weather themselves.
Necessary technique cannot work in the villages because of flood.
/Interpress News/