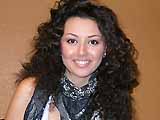 If there is a show on Ukrainian TV that is completely off the hook, it's SHOWMANIA. The host, Dima Kolyadenko is probably one of the most controversial, unbalanced and, we are not afraid to say it, obnoxious characters on modern television and what he does often times runs completely counter to our perception of culture.
But he is the best at entertaining people. Whomever he is with has no time to breathe, let alone get bored! And the parties he throws… Well, let us just say that the SHOWMANIA PARTY is the most sought after invite of the week! And our girl Safura will headline it!!! With THREE songs!!! She must be doing something right!
So, here is the skinny. The time: 23:30, Saturday, the 3rd. The place: club 'Sorry, Babushka!'. The act: Safura performs three of her faves including (what else?) 'Drip Drop' Hurry to 'Sorry, Babushka', the number of tickets is limited!!!
/Eurovision Talents/