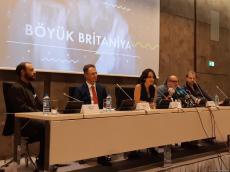 By Azernews
By Laman Ismayilova
The 2nd M.A.P International Theater Festival kicked off in Baku on November 6 and will last till November 11.
Serving as a platform for communication, education, exchange of knowledge and experience, M.A.P. Festival – an acronym for music, art and performance - combines different forms of theatre to help audiences explore a wide range of contemporary theatrical forms.
The festival, organized by YARAT Contemporary Art Space expands its geographical focus, and this year presents 16 performances by theatre companies from Denmark, Estonia, Germany, Iran, Italy, Japan, Switzerland, Russia and the United Kingdom.
A press conference timed to the theater festival was held at Baku Congress Center, Trend Life reported.
YARAT artistic director Suad Garayeva-Maleki, artistic director of the festival M.A.P., director Kamran Shahmardan, executive director of Bakcell Nikolai Beckers, actor of the Vene Theater (Estonia) Alexander Ivashkevich and director of NoGravity Theater (Italy) Emiliano Pelliari attended the conference.
Addressing the event, Suad Garayeva-Maleki stressed that interesting and vivid performances by international theater companies will be presented to the audience as part of the festival.
"M.A.P International Theater Festival  will become a holiday for art lovers. During the year our team did a great job to organize this festival," she added.
YARAT artistic director emphasized that the festival erases borders, connects cultures and unites people through the arts.
A rich programme of workshops and lectures accompanies the performances, enabling emerging directors, actors, playwrights and other professionals are organized during the festival.
Kamran Shahmardan noted that it is a great honor for him to hold a similar festival in Azerbaijan. The artistic director of the festival noted that his program includes the productions of the modern theater of the 21st century.
Shahmardan stressed that puppet performances for children and adults, experimental works, a performance in the direction of modern ballet, as well as classical and opera productions will be presented to the audience.
The festival is organized with the support of Bakcell, the first mobile operator and the leading provider of mobile Internet in Azerbaijan.
Bakcell executive director Nikolai Beckers  noted that the M.A.P. festival makes a significant contribution to the development of art in Azerbaijan.
The director of NoGravity Theater (Italy), Emiliano Pellisari, spoke about the production, which opens the festival. The show "Aria" combined choreography, vocal performance, bright costumes. The show is based on baroque music.
Estonian actor Alexander Ivashkevich expressed his gratitude to the festival organizers for the invitation, stressing that the troupe of the Vene Theater at the festival will demonstrate the performance "Duck Hunt" directed by Kamran Shahmardan.
Notably, YARAT is partnering with all major theatre venues in Baku, including the Azerbaijan State Academic National Drama Theatre, the Azerbaijan State Academic Opera and Ballet Theatre, the Azerbaijan State Russian Drama Theatre, the Azerbaijan State Musical Theatre, the Azerbaijan State Theatre of Young Spectators, the Azerbaijan State Puppet Theatre, ÜNS Creative Stage and Baku Convention Center.