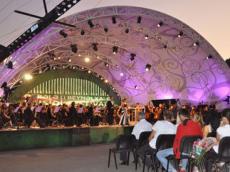 "I liked people `s hospitability and good ear for music in Gabala. Mountains, river murmurs, threes and shrubs and classic music… Nothing is more wonderful than this. I am very glad that I have been invited here," Charles Dutoit told in his interview to journalists.
Stressing well organization of the festival, Charles Dutoit noted that the London Royal Philharmonic Orchestra`s 4-day performance aroused keen interest among music lovers.
"We did what we can. Spectators liked the performance of our band so much that we have received standing ovation. We have prepared for a grandiose show in the closing ceremony. If we again get invited to the festival, we will of course participate in it," he added.
/
AzerTAc
/