A group of experts on energy complexes of Azerbaijan and Ukraine headed by Vice-President of State Oil Company of Azerbaijan Republic (SOCAR) Elshad Nasirov will visit Kiev, Ukraine on May 5.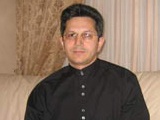 The Ukrainian Ministry of Fuel and Energy told APA.
The delegation led by Deputy Minister Burzu Aliyev will visit Azerbaijan on May 12.
They plan to conduct various discussions with the Fuel and Energy Ministry of Azerbaijan and SOCAR and to sign agreements on energy cooperation between the two countries within the three-day visit.
/APA/