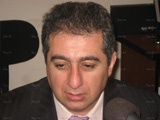 The Economic Research Center has held a poll in 3,000 economies as for the family budget, its structure and influence on living conditions in the framework of the project "Development of alternative methodology of inflation".
During the event, held in this connection, chairman of the center Gubad Ibadoghlu announced that the poll covered the last 2 months of 2007.
In line with results, 18.9% of respondents answered the question "How do you assess the financial state of your family?" answered "Can hardly afford food", 16.6% "All incomes go for good", 44.3% "Only for food, clothes and the most urgent things", 14.3% can afford purchase of utilities and resort and only 5.9% can afford normal living.
65.4% of respondents answered positively to the question "Does inflation rate exceed your incomes?", 22.4% consider that the correlation is equal and 12.1% answered negatively.
According to Ibadoghlu, the inflation rate outstrips the incomes of the officials of the law enforcement bodies.
In line with the Center's researches, inflation rate made up 9.61% in the first quarter, 4.58% in Baku, 6.31% in the regions. Foodstuffs prices have risen by 7.51%. Within the past year inflation rate made up 23.37% in the country.
/APA/