The amount of foreign credits, raised by Azerbaijan, made up $2,441,900 as of January 1 of 2008.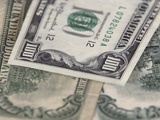 The due information has been provided by Azerbaijan's Ministry of Finance, Novosti-Azerbaijan reports.
At the same time the GDP percentage rate made up 8.2. The per capital external debt totaled $283.9.
Credits raised on economic reforms made up $372,600 or 15.3%. The International Monetary Fund received $100.600 or 04.1%, the World Bank $71,000 or 11.2% of the total amount of credits.
The credits used for investment projects totaled $2,069,300 or 84.7%.
At the same time the fuel and energy sector received $870,600 or 35.7%, agricultural sector $185,400 or 07.6%, transport and road construction $467,000 or 19.1%, chemical sector $36,700 or 1,5%, oil and gas sector $153,900 or 06.3%, social sphere $180,900 or 7.4% as well as other spheres $120,100 or 4.9%, Finance Ministry reports.