Tuesday, Azerbaijan Investment Company and STX Corporation sealed two memorandums of understanding within the scope of a joint business forum in Seoul.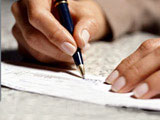 The AIC press service told that the memos are aimed at cooperating in implementation of a number of multi-sectoral business projects in Azerbaijan, including construction of a Caspian shipyard, wind farms, infrastructural projects etc.
As per the signed document, the parties will study prospects, commercial efficiency, and the amount of investments and will carry out economic and technical assessment of the shipyard to be located in Garadagh District in Baku.
Under the preliminary agreement, Azerbaijan Investment Company will hold a 25% participating interest in the project.
The business forum was held with the scope of the three-day visit of President Ilham Aliyev-led large delegation to South Korea, APA reports.