U.S. Energy Secretary Samuel Bodman said Wednesday he will discourage any plans to form an overseas natural gas cartel, saying open, not limited, markets are key to meeting future energy demand.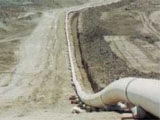 Bodman's comments at an energy conference in Houston came days after Russian President Vladimir Putin and Qatari Emir Sheik Hamad bin Khalifa Al Thani said they would explore the creation of a natural gas cartel to represent the interests of producer countries to influence the global market.
Russia and Qatar are two of the world's largest producers of natural gas, and tiny Qatar sits atop the world's single largest gas field. Because of growing demand and lessening supplies, the United States has increasingly relied on natural gas imports in recent years.
Bodman said a cartel is not something the U.S. encourages and that he would make that point in meetings with his counterparts around the world.
"All countries can act as they see fit, but I think it's fair to say that efforts to manipulate markets, trying to organize the suppliers in such a fashion, over the long term is not going to accrue to the benefit of suppliers," Bodman said after a 25-minute speech to 2,000 energy industry executives, analysts and academics.
Putin, on a recent Mideast tour, acknowledged the idea requires more study — a point Andrei Reus, Russia's deputy minister of industry and energy, reiterated at the same Houston conference Wednesday.
Speaking through an interpreter, Reus downplayed the term "cartel," and said no one has yet defined the format of such an organization.
But he added, "Not a single action we undertake, not a single association we become part of, is aimed against anybody. We aren't working against anything here."
European Union leaders have said they would stand against any effort by Russia to create a gas cartel, fearing energy prices — and Russia's political clout — could rise dramatically as a result. Europe gets 44 percent of its natural gas imports from Russia.
Putin has said he would send a team of experts to a natural gas conference being held in Qatar's capital Doha in April, where they would discuss details of building a cartel resembling the Organization of Petroleum Exporting Countries. Qatar is an OPEC member; Russia is not.
In January, Iran — which is developing its gas industry — said it favored forming a cartel. In talks with the head of Russia's Security Council, Igor Ivanov, Iran's supreme leader Ayatollah Ali Khamenei proposed Iran and Russia create a gas cartel.
But at the time, Ivanov said there were no plans for a cartel, only "interest in gas producers coordinating their policies in the gas sphere."
Talk of an OPEC-like cartel for natural gas highlights the clean-burning fuel's importance as an energy source and its potential as a pawn on the volatile global energy scene, said Simon Blakey, senior director for European research at Cambridge Energy Research Associates, the sponsors of the Houston conference.
But Blakey said a cartel like the one broached by Putin likely "is not an imminent political or market reality."
"It's not clear what a 'Gas PEC' could set itself to do in terms of price targeting and volume management," he said. "The short-term markets in international gas trade are not so well developed that would allow them to be subject to the same kind of fine-tuning that quarterly OPEC meetings undertake in the oil markets."
In his wide-ranging speech, Bodman did not name any specific countries but said initiatives that seek to control the flow of energy supplies and circumvent the role of the market to set prices "are contrary to the long-term interests of both producers and consumers."
"History has shown that an unfettered market is the most effective and efficient way to determine price and allocate resources based on supply and demand," he said.
Bodman traveled from Houston to Mississippi where he officially designated the new site for expansion of the government's Strategic Petroleum Reserve. The federal government has chosen a salt dome near Richton, Mississippi, as the location, which eventually will help expand the size of the emergency oil stockpile to 1 billion barrels.
A protection against emergency oil market disruptions, the reserve can now hold about 727 million barrels, and the U.S. Congress has authorized it to go to 1 billion. President George W. Bush wants the capacity increased further, to 1.5 billion barrels, and filled by 2027. The Associated Press
/The International Herald Tribune/