International Monetary Fund mission will be visiting Azerbaijan on February 14-28.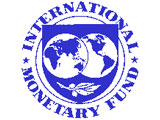 The mission will have discussion on 2006 macroeconomic indicators and prospects and economic policy for medium term of 2007, IMF Office in Baku told APA.
 
IMF delegation includes IMF Executive Director for Azerbaijan Thomas Moser, Deputy Director for Near East and Middle Asia Lorenzo Peres, head of IMF mission for Azerbaijan Vitali Kramarenko.
The mission is expected to have meetings at President's Office, Cabinet, Finance, Economic Development, Taxes Ministries, Social Protection Fund, National Bank, SOCAR, SOFAZ, Baku Stock Exchange, Accounting Chamber, BP Azerbaijan and other commercial organizations.
IMF mission last visited Azerbaijan in September last year to discuss the 2007 Budget and the principles of macroeconomic policy with the Government.