Ceremony of signing a Tbilisi Declaration on the construction of Baku-Tbilisi-Akhalkalaki-Kars railway line was held on Wednesday at Georgian parliament.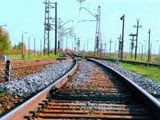 Following the solemn signing ceremony Azerbaijani President Ilham Aliyev, Georgian President Mikhail Saakashvili and Turkish Prime Minister Rajab Tayyib Erdogan made statements.
The project value of the Baku-Tbilisi-Akhalkalaki-Kars railway project is $600m. Under the Tbilisi Declaration the cost of the construction works is $422m., construction of infrastructure is $178m and the construction works will be completed in 2008.
The construction of the 76km-railway line lying from Kars to Georgian border will be implemented by Turkey. Georgia will reconstruct 160km-line and in addition to that, it will construct a 29km-railway line.
15m-tonnes cargo can be transported every year via this new transport corridor.
Kazakhstan, China, India and other states have expressed their keen interest in this project, APA's Georgia bureau reports.