Conference examining priorities of new quality phrase in economic growth and problems with use of financial resources, supported by UK Links, was held by Parliament commission or economic policy.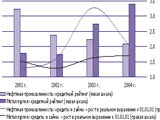 Commission Chairman, Ziyad Samadzade said favorable conditions have been created in Azerbaijan recently for formation of financial system and relevant legislation has been adapted to international standards, APA reports.
"We have various styles and options to form budgets in future. There is no problem with formation of budget revenues in Azerbaijan," he said.
Finance Minister, Samir Sharifov, said Azerbaijan's economic growth in 2006 rose 35.6% from the previous year. The currency reserves grew 60% to $4bln. The government's target is to control inflation rate.
"Azerbaijan's ratings by international organizations are advancing year by year. Fitch will grant new ratings in a few days," he noted.
Samir Sharifov added one of the macroeconomic factors is the increasing budget spending, and this problem becomes more urgent because of additional currency influx.
 
Chairman of State Committee for Securities Gunduz Mammadov, Member of Parliament Azer Amiraslanov, Chair of Accounting Chamber Office Rasim Hasanov, and other officials made a point at the conference.