A delegation led by Deputy Minister of Communications and Information Technologies, Iltimas Mammadov, returned from Goteborg, Sweden.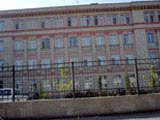 The principal aim of the visit was to discuss establishment of International University of Information Technologies in Azerbaijan.
The Ministry told the APA that Azeri delegation met with the leadership of Chalmers University of Technology.
The Ministry created a special committee under the ministry to deal with establishment of a higher school of technology in Azerbaijan.
The Ministry has worked on the establishment program and began to systemize the legal and administrative base.
Education Ministry discussed establishment of the technology school on December 1, 2005.
President of Chalmers University of Technology took the initiative on creation of the IT University.
Azerbaijan supported the proposal as Sweden has great experience in this field. Azerbaijan Education Ministry and National Academy of Science's Information and Technology Institute worked a package of proposals on the project.
The University can start from 2008 after the Government approves the proposals.
Te project requires some 400,000 euros in investment.
Azercell and Ericsson said they can be founders of the university.