President Ilham Aliyev has issued a decree on improvement of mortgage lending mechanism in the country.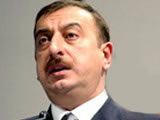 The decree covers improvement of the machinery for lending a mortgage loan to citizens and provision of preferential terms for young families and military servants (except term servants), the President's press service told the APA.
As per the amendments, the maximum term of a mortgage increased to 25 years from 15, maximum amount of a loan went up to AZN 50,000 from AZN 30,000, maximum annual interest rate slashed to 8% from 12%.
The amount of a loan is not to exceed 85% of the market price of the mortgaged property, it can only reach 100% of the price if secured by the Azerbaijan Mortgage Fund.
Besides, not 50% but even 70% of the incomes can be used to pay liabilities on mortgage.
It was instructed to the Cabinet to establish Guarantee Fund for Mortgages as non-commercial legal entity so as to abolish the upfront in future and to secure the risks, and to develop, confirm and register the regulations of the Fund within a month.
The Defense Ministry has to sent its proposals on preferential mortgage lending for military servants (except term servants and its own officers) serving in military units.
The President approved the rules for lending preferential mortgage loans.
According to the rules, the maximum amount of the preferential mortgage loans is not to exceed AZN 35,000, and applicable to the mortgages lent according to the requirements of the Mortgage Fund.
The term of loans can range from 3 years to 30 years, annual interest rates under $4. the preferential mortgage loans are available for martyr's family (husband/wife, children), National Heroes (himself, husband/wife, children), internally displaced people or people in the same status, people with a decree of candidate of science or doctor, people with special achievements in sports (winners of competitions (first place)), winners of international competitions (first, second and third places), military servants in service for over three years (except term servants), they all are entitled to use the preferential status once only.
The President also decreed to make amendments to some legislative acts and to make the Law on Collateral ineffective.