Production from the first well in Shah Deniz Field, the giant one in the Azerbaijani sector of the Caspian, has been indefinitely suspended since Monday, Jan. 22.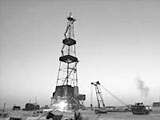 The SOCAR told the APA that technical failure had occurred in the first well in early January which resulted in gas leakage. The field had returned on stream in mid Jan after the fault was repaired. On Monday, the production was suddenly stopped again due to technical problems
BP is the 25% owner and operator of Shah Deniz, which is believed to contain 1 trln cubic metres of gas, making it the largest gas discovery ever made by the group.
The 4.5 bln usd Shah Deniz project went on stream last month and is expected to produce 8.6 bln cubic metres of gas a year. Shah Deniz gas is being pumped to Turkey, onward to Europe through Baku-Tbilisi-Erzurum pipeline.
BP-Azerbaijan Office in Baku told the APA that the production was suspended in early January due to some technical problems, but the failure couldn't be removed completely.
"On Jan. 14 the production was resumed for an after-repair trial. But, it was decided to shut down the well again for repair because complete elimination of the failure needs international experience. Repair is ongoing," BP said.
He declined to say how long it will take for BP to repair the fault.