Roundtables under "Year of Russia in Azerbaijan" with participation of representatives of both countries were held at the Baku Business Centre yesterday.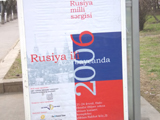 As APA reports, prospects of expansion of trade relations between Azerbaijan and Russia were discussed in the roundtable on regional economic development.
The representative of the Ministry of Economic Development Shahin Sadigov told that trade turnover between the countries increases every year. He also noted that this indicator had been $380 million in 2002, $800 million in 2004 and had exceeded $1 billion last year.
According to Sadigov, last year Azerbaijan exported goods (mainly potato, tomato, fruits, tea, vegetable oil, oil and oil-chemical products) in amount of $285 million to Russia.
Other roundtables are concerned to the North-South transport corridor, legal status of the Caspian Sea, agrarian-industrial complex, and prospects of bilateral cooperation in the fuel and energy complex.