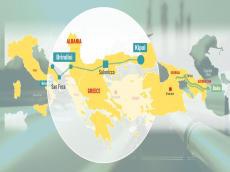 By Azernews
By Leman Mammadova
TAP AG, the Trans-Adriatic Pipeline operator, has signed a contract with Petrofac, which is a London-based service provider for major oil and gas companies in the world, AZERTAC reported.
The contract envisages the operations, technical support services, covering 13 months-period.
TAP has already signed contracts with a number of companies, contractors, to assist in the development and construction of the pipeline, such as Himachal Futuristic Communications Ltd. (HFCL), ABKons, Corinth Pipeworks S.A., ??? LAW FIRM, E.ON Technologies GmbH (ETG), Honeywell, Industria Meccanica Bassi, INFODIM, JV Bonatti & J&P Avax, JV Enereco & Max Streicher, JV Gener 2 – Sicilsaldo, JV Renco Terna, MTC-MAKEDONIKI, Nuova Giungas, PIRAEUS BANK SA, Renco, RMA, Saipem, Salzgitter, Siemens, Spiecapag, Statoil, UTG.
Approximately 82 percent of the TAP project, including engineering, procurement and construction, was implemented.
Last month, Albania started preparations for drilling and piping sources for the microtunel on the 105-kilometer seabed of TAP. Construction of this part of the pipeline will be carried out in 2019 according to the schedule.
TAP, along with TANAP, is a part of Southern Gas Corridor project. The project envisages transportation of gas from Azerbaijani Shah Deniz-2 gas field to Greece and southern Italy across the Adriatic Sea through Greece and Albania, and involves designing, construction and operation of the natural gas pipeline.
On May 29, Baku hosted the launch ceremony of the first phase of the Southern Gas Corridor project.
The Intergovernmental Agreement on the TAP project was signed by Albania, Italy and Greece in February 2013. The 878-kilometer-long TAP pipeline (Greece 550 kilometers, Albania 215 kilometers, Adriatic Sea 105 kilometers, and Italy 8 kilometers) haing connected to the TANAP on the Turkish-Greek border, will run through Greece, Albania and the Adriatic Sea, before coming ashore in Italy's south.
In November, TAP and TANAP successfully completed their connection on the banks of the Merich River on the Turkish-Greek border.
The TAP pipeline is expected to be commissioned in 2020. The initial capacity of TAP will be 10 billion cubic meters of gas per year with the possibility of doubling it.
The cost of the project is 4.5 billion euros, so far, 3.2 billion euros has been spent.
TAP shareholders include BP (20 percent), SOCAR (20 percent), Snam S.p.A. (20 percent), Fluxys (19 percent), Enagas (16 percent) and Axpo (5 percent).
As of 14 November 2018, TAP signed a Letter of Intent, marking the final stages of negotiation of the Maintenance Agreement talks between TAP and Albgaz Sh.a and Snam S.p.a. – a joint venture that will establish a special purpose entity to act as the maintenance service provider for the Trans Adriatic Pipeline on the territory of Albania.
The TAP project is one of the strategic objectives of the EU in the energy security and diversification of energy sources, chosen as the shortest and direct way to export natural gas from Azerbaijan to the European markets.