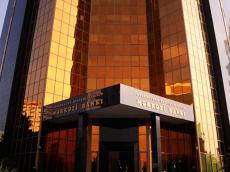 By  Trend
Demand at a deposit auction held by the Central Bank of Azerbaijan (CBA) exceeded supply by 4.8 times, the CBA said on October 23.
The CBA received 100 million manats from banks, while the demand was at the level of 480.8 million manats. The weighted average interest rate on deposit transactions at the auction was 10.01 percent.
The Central Bank began to hold deposit auctions in mid-June 2016.
Thirty one banks, including two state-owned ones, operate in Azerbaijan.
(1.7001 manats = 1$ on October 23)