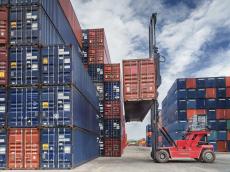 By Azernews
By Sara Israfilbayova
The Tehran Chamber of Commerce and Industry will conduct a survey among local entrepreneurs during the business forum, which will be held on August 16, to study their export potential for delivering goods to Azerbaijan.
Earlier, the Chamber conducted similar surveys to study the potential for the supply of Iranian products to Pakistan, Turkey, Iraq, Russia, the United Arab Emirates (UAE) and Oman, Financial Tribune reported.
The two countries enjoy developed political, economic, cultural and humanitarian relations, have signed some 50 documents on cooperation. 
Currently, some 450 companies with Iranian capital operate in the country.
Azerbaijan and Iran will soon launch joint manufacture of cars in the in Neftchala Industrial District. The plant will operate on the basis of joint project of AzEuroCar LLC and Iran's largest car manufacturer Iran Khodro.
The trade turnover between Iran and Azerbaijan amounted to $148.9 million in January-July 2017 (an increase of 42.3 percent over the year), almost $140 million of which accounted for imports from Iran, according to State Customs Committee of Azerbaijan.
Earlier, Azerbaijani Economy Minister Shahin Mustafayev, within the framework of his February visit to Iran, stressed that it is possible to bring the mutual trade turnover up to $500 million a year.