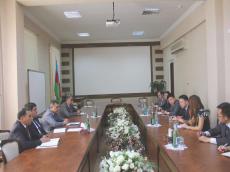 By Azernews
By Sara Israfilbayova
Azerbaijan develops its agricultural cooperation with China in new dimensions as it does in all other spheres of the economy.
Deputy Minister of Agriculture Ilham Guliyev made the remark at a meeting with a Chinese delegation led by the chairman of the Board of the Beijing-based Norinco International Cooperation Ltd, Wang Yitong.
Guliyev said Azerbaijan will build a state-of-the-art plant using the Chinese experience in order to renovate Gakh Silk Farming Station.
"The government greatly supports the agricultural development in Azerbaijan. Farmers and entrepreneurs are free from all taxes, except land tax, and get 70 percent and 40 percent discounts for fertilizers and machinery, respectively. We consider it expedient to apply China`s successful experience in the spheres of silk farming, cotton-growing and tea growing in Azerbaijan," he added.
Yitong, in turn, expressed interest in developing agricultural relations with Azerbaijan.
China is a huge opportunity and a priority market for Azerbaijan. More than 50 agreements were signed between the two countries so far.
In the first quarter of 2016, the Chinese government invested $419 million in various spheres of Azerbaijan. The cost of contracts signed between the two countries amounted to $227 million. Azerbaijan invested in 59 projects implemented in China and the total amount of these investments amounted to $7.8 million.
Trade and economic contacts occupy a significant place in bilateral relations between China and Azerbaijan. The process of interaction between the two countries was marked by constant tendencies of expansion and strengthening of cooperation.
In early August, Azerbaijan Export and Investment Promotion Foundation (AZPROMO) signed a Memorandum of Understanding (MoU) with China Council for the Promotion of International Trade (CCPIT).
The document provides for the development of trade, economic and investment relations between the two countries, as well as promotion of export and exchange of experience.
Moreover, the active cooperation between China and Azerbaijan strongly contributes to the realization of the Great Silk road program.
The Great Silk Road is a general name of a caravan road, which has been the main two-way trading bridge of East and West since III century BC up to now. The Great Silk Road starts in Japan and China stretches up to Europe cutting through India, Afghanistan, Iran, Central Asia, Caucasus, Asia Minor, Northern Africa including/connecting Indian Ocean, Chinese sea, Japanese sea, Red sea, Caspian sea, Black sea, Azov sea and Mediterranean sea.
The trade turnover between Azerbaijan and China amounted to $395.6 million in January-April 2017.